HI,this is a exciting project , I have been used the custorm field successful,it works very well ,then I want to copy the custom field information to the "content" ,but it dosen't work .
the doc.json writed as this :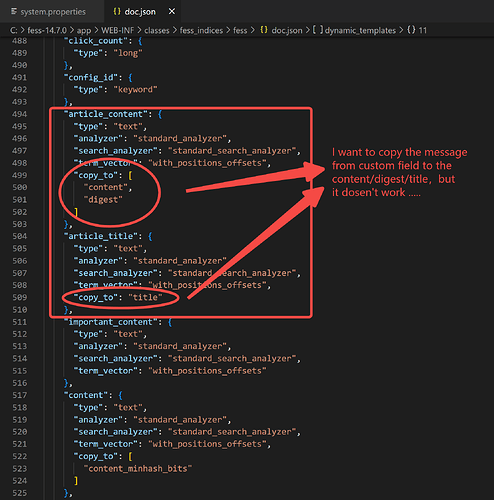 Following the forum's advice,I changed the above configuration and restarted Fess, but it still couldn't work properly. This problem has been bothering me for more than two days. I kept trying and searched through the Fess forum, but there is little information on this topic. Up until now, I have not been able to solve it and I am looking forward to the author's help. Thank you very much!
the forum's another advice:
1)Add a custom field to [doc.json 4]
2) Reindex on [Maintenace] page
3) Add the field name to [query.additional.search.fields] in fess_config.properties
4) Restart Fess
the Fess forum's subject about this ,but there is not enough information about it.
I need your help ,thanks a lot !